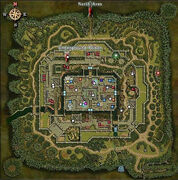 Braiken Castle, or simply Braiken, is one of the two starting points (the other one being
Loa castle
).
Description
Edit
Braiken has a very long and tragic story. The Loai (people in Loa) are rumored to *hate* the people in Braiken, because they are more brutal and dirty than themselves. Braiken is also known for being the main preparation spot for Dead Front, which is a "mini"game which came out in A3.
Ad blocker interference detected!
Wikia is a free-to-use site that makes money from advertising. We have a modified experience for viewers using ad blockers

Wikia is not accessible if you've made further modifications. Remove the custom ad blocker rule(s) and the page will load as expected.