Jakarias - level 130 - Incar magician, Vicious Summoner and Concerra Summoner - Staff
| | | | | |
| --- | --- | --- | --- | --- |
| Rank | Strength | Spirit | Damage | Magic Damage |
| +0 | 66 | 326 | 613~626 | 992~1141 |
| +1 | 66 | 326 | 622~637 | 999~1150 |
| +2 | 66 | 326 | 637~654 | 1011~1164 |
| +3 | 66 | 326 | 665~684 | 1035~1189 |
| +4 | 66 | 326 | 725~748 | 1083~1240 |
| +5 | 66 | 326 | 816~844 | 1160~1319 |
| +6 | 66 | 326 | 958~991 | 1286~1450 |
| +7 | 66 | 326 | 1169~1213 | 1482~1651 |
| +8 | 66 | 326 | 1527~1578 | 1819~1997 |
| +9 | 66 | 326 | 2162~2227 | 2426~2618 |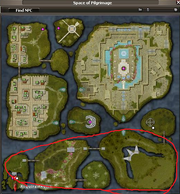 The Jakarias drops from monsters in the map Space of Pilgramage.
The monsters that drop it are located in the red circle.
Ad blocker interference detected!
Wikia is a free-to-use site that makes money from advertising. We have a modified experience for viewers using ad blockers

Wikia is not accessible if you've made further modifications. Remove the custom ad blocker rule(s) and the page will load as expected.