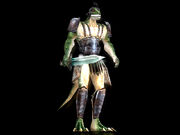 He is a monster lvl 18, that it leaves in Deneb.
Section heading
Edit
Lizardman Knight leaves near the lake, west of the city, with Lizardman and Water Reaper.
Section heading
Edit
As pollution of the lower bound spread to the Trieste Continent, reptiles were on the side of the lower bound. Lizardman Knight, the first soldier of Karon, holds a clow trimmed dull and blocks the way to Haihaff.
Ad blocker interference detected!
Wikia is a free-to-use site that makes money from advertising. We have a modified experience for viewers using ad blockers

Wikia is not accessible if you've made further modifications. Remove the custom ad blocker rule(s) and the page will load as expected.