Parasite Decay its a monster Lv 33 and lives in Parca Temple. Their resistance is ice.
Section heading
Edit
He enters on a quest: Defeating Parasite Decay.
Section heading
Edit
Parasite
weaker than the physical disadvantages, but the damage has been granted the karon horsepower to be beyond imagination.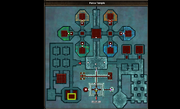 Ad blocker interference detected!
Wikia is a free-to-use site that makes money from advertising. We have a modified experience for viewers using ad blockers

Wikia is not accessible if you've made further modifications. Remove the custom ad blocker rule(s) and the page will load as expected.