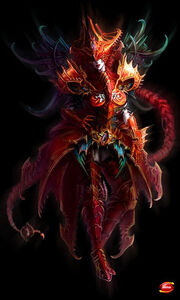 Segnale is a class specialized to heal and curse. It's the only class that has HP and shield recovery skills, which makes the class essential in a party play. The class has several healing skills that can be variously used depending on the situation, and also has several buff skills that can raise the attack of the party members. Also, Segnale is the only class that can resurrect others and even own self. Segnale's curse skills are specialized on debuffing the enemies. The skill drops attack and defense and other various status, and even can make someone fall in sleep to prevent them to fight. Also this class has skills that nails an enemy making them not able to move, and drops the recovery rate. They have effective debuff skills which you cannot imagine from the healing class.
Pros
Great AOE Buffs
Has many useful Debuffs
Guranteed party for DF
Fair Magic Damage
Good Supporter Class
Good Farming Class
High survivability
Cons
Very good PK/PvP class if u know how to use it
Hard to play
Slow for Soloing
The segnale has only one weapon, the Bloodwhip. Segnales are not primarilty focused on attacking so much as support and healing.
The segnale has weak armor, they are typically found at the backlines, protected by the tanks, and keeping their party alive with healing spells. It goes without saying that the Segnale while weak by herself, is a force to be reckoned with when in a party. A list of Segnale armor can be found here.
Ruins Skull A basic curse long range skill.
Hits one time with a purple ball dealing curse damage.
| Level | Mana Cost | CD | Damage |
| --- | --- | --- | --- |
| 1 | 3 | 1 | 75+matk |
| 2 | 11 | 1 | 158+matk |
| 3 | 20 | 1 | 256+matk |
| 4 | 28 | 1 | 370+matk |
| 5 | 37 | 1 | 500+matk |
Blood Hit
Segnale attacks several times with Bloodwhip dealing physical damage.
| Level | MP | CD | Damage |
| --- | --- | --- | --- |
| 1 | 31 | 5 | 4x(261+atk+[9]) |
| 2 | 40 | 5 | 4x(347+atk+[26]) |
| 3 | 49 | 5 | 4x(445+atk+[39]) |
| 4 | 58 | 5 | 6x(559+atk+[65]) |
| 5 | 76 | 5 | 6x(677+atk+[83]) |
| | | | |
| | | | |
| | | | |
| | | | |
| | | | |
Transformation

| Skill Lv. | Req. Lv. | CD | All Stats | |
| --- | --- | --- | --- | --- |
| 1 | 131 | 300 | + | |
| 2 | 131 | 300 | + | |
| 3 | 131 | 300 | + | |
| Skill Lv. | Req. Lv | MP | CD | ATK | Skill lock |
| --- | --- | --- | --- | --- | --- |
| 1 | 131 | 155 | 21 | 3 x (1060 + matk) | 5 sec |
| 2 | 137 | 162 | 20 | 3 x (1821 + matk) | 5 sec |
| 3 | 143 | 169 | 19 | 3 x (2663 + matk) | 5 sec |
| 4 | 149 | 176 | 18 | 3 x (3583 + matk) | 5 sec |
| 5 | 155 | 203 | 17 | 3 x (4589 + matk) | 5 sec |
Silent Cry
| Skill Lv. | Req. Lv | MP | CD | ATK*3 |
| --- | --- | --- | --- | --- |
| 1 | 135 | 200 | 12 | 5228 |
| 2 | 141 | 208 | 12 | 5810 |
| 3 | 147 | 127 | 12 | 6416 |
| 4 | 153 | 226 | 12 | 7091 |
| 5 | 159 | 235 | 12 | 7787 |
Revive

| Skill Lv. | Req. Lv | MP | CD | Shield+/sec | HP+/sec | Duration |
| --- | --- | --- | --- | --- | --- | --- |
| 1 | 131 | 282 | 240 | 3000 | 1000 | 10 |
| 2 | 137 | 295 | 220 | 3500 | 1150 | 10 |
| 3 | 143 | 307 | 200 | 4000 | 1300 | 10 |
| 4 | 149 | 320 | 180 | 4500 | 1450 | 10 |
| 5 | 155 | 333 | 160 | 5000 | 1600 | 10 |
Shield Field

| Skill Lv. | Req. Lv. | MP | CD | Shield+/sec | Duration |
| --- | --- | --- | --- | --- | --- |
| 1 | 133 | 315 | 40 | 1300 | 10 |
| 2 | 139 | 329 | 37 | 1600 | 10 |
| 3 | 145 | 343 | 33 | 1900 | 10 |
| 4 | 151 | 357 | 29 | 2200 | 10 |
| 5 | 157 | 371 | 25 | 2500 | 10 |