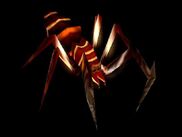 Spider larva is a monster in
Braiken Castle
.
Spider larva is also in the Nunvice Dungeon (formerly Novice Dungeon), but is much, much stronger (hits about 110 with poison attacks). It changed name into Poison spider, however.
Stripes can mean it is a Tiger spider, which looks very similar.
Ad blocker interference detected!
Wikia is a free-to-use site that makes money from advertising. We have a modified experience for viewers using ad blockers

Wikia is not accessible if you've made further modifications. Remove the custom ad blocker rule(s) and the page will load as expected.