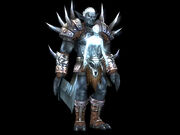 Superiorsite its a monster Lv 30 and lives in Parca Temple. They are in the same zone with Superiorssure. Their resistance is ice.
Section heading
Edit
He enters on a quest: Defeating Parasite Decay.
Section heading
Edit
Superiorsite in Undine dropped over the years. More powerful, higher accumulation of pollution in the evolution of parasites is bad.